 
Erisin ES586 AHD 1080P 140 Guide Line Car Rear View camera
AHD (Analog High Definition Technology)
Key Features:

What is AHD?
AHD (Analog High Definition Technology)
AHD technology can realize reliable transmission of ultra-long-distance (500 m) high-definition video signals on
analog transmission lines; it adopts advanced Y/C signal separation and analog filtering technology, which can
effectively reduce color noise in high frequency region and image reduction. better. Compared with the traditional
CVI signal, AHD's surveillance image quality has a qualitative leap and improvement, and the resolution can be equal
to the HD 1080P level.
At first AHD 1.0 technology allowed the use of 720P HD(high definition) Resolution cameras. The new AHD 2.0 version
introduced 1080P FHD(Full High Definition) resolution using traditional coaxial cable (RG59) at distances of up to 500m.

AHD VS other Cameras:
We usually call the video high definition with the physical resolution more than 720p, referred to as HD:
720p AHD/CVI/TVI=700TVL analog cameras (1280x720)
960P AHD/CVI/TVI =720p(1.0MP) Network cameras (1280*960)
1080P AHD/CVI/TVI=960P-1080P(1.3MP-2MP) Network cameras (1920x1080)
******
Traditional CVBS Analog NTSC Camera: 0.34 Mega Pixels (720×480)
Traditional CVBS Analog PAL Camera: 0.4 Mega Pixels (720×576)
Traditional CVBS Analog SECAM Camera: 0.4 Mega Pixels (720x576)

Advantages of our AHD 1080P Rear View camera:
- High resolution: Advanced signal filtering, 3D noise reduction, higher image resolution, better image reproduction.
1920x1080, 2MP.
- Long range transmission distance: max. 500 meters over traditional 75-3 coaxial cable.
- No video latency: Uncompressed video, real time transmitting.
- Compatible Video System: ONLY For Car Stereos supporting rear view camera with the following video formats:
1. AHD 1080P @30FPS
2. Backwards compatible with AHD 720P @25FPS
- Fit for any Car model, perfect replacement, no need to change or damage the original appearance of the car.
- Reversing Guard Line: Yes, can help you to estimate the distance while reversing.
- Low-light Level Night Vision for Night.
- Built-in AHD Chip outputs digital signals which has much better clarity, color contrasting and sharpness than
the low definition NTSC/PAL camera.
- Fisheye camera lens and 140 degree wide angle viewing helps avoid accidents & injuries.
- IP68 Water-proof-Rating, 8 hours in water tested, can achieve 100% waterproof.
- Portable, Dust-proof, Shock-proof, Anti-fog, Anti-high Temperature and Humidity.
- Easy Installation

Note:
1. If your Car Stereo only supports NTSC/PAL camera, not supports AHD camera, PLEASE DO NOT BUY!
Please check with the seller of your car stereos before buy to avoid mistake!
2. For our Erisin Car Stereos Models: temporarily supports PX5(ES81XX, ES87XX), MT8321A (ES27XX), to be updated in future.

 

Specifications:

- 100% brand new and high quality
- Camera Body Material: Metal
- Color: Black
- Shipping weight: 250g
- Size: 28mm(Top width) * 25(Bottom width) * 32(Height) * 25(Thickness)
- Camera Lens: 2 groups of glass lenses + 2 groups of plastic lenses)
- Video output: AHD Video Signal (1080P/720P)
- Effective Pixels: 1920×1080, 2MP
- Viewing angle: 140°, Fisheye lens
- Reversing Guard Line: Yes
- Highg Waterproof Grade: IP68
- Low-light Level Night Vision for night
- 6M RCA Video & Power Cable
- Power Supply: DC 12V - Working temperature: -30℃~80℃
- Automatic White Balance: Yes
- AGC (Automatic Gain Control) : Yes
- BLC (Back Light Control) : Yes
- CE Certified: Yes

Parcel Content:

- 1 * AHD Car Rear View Camera
- 1 * 6M Video & Power Cable
- 1 * Install Fitting
- 1 * User's Manual in English (just for reference, may vary to the actual camera)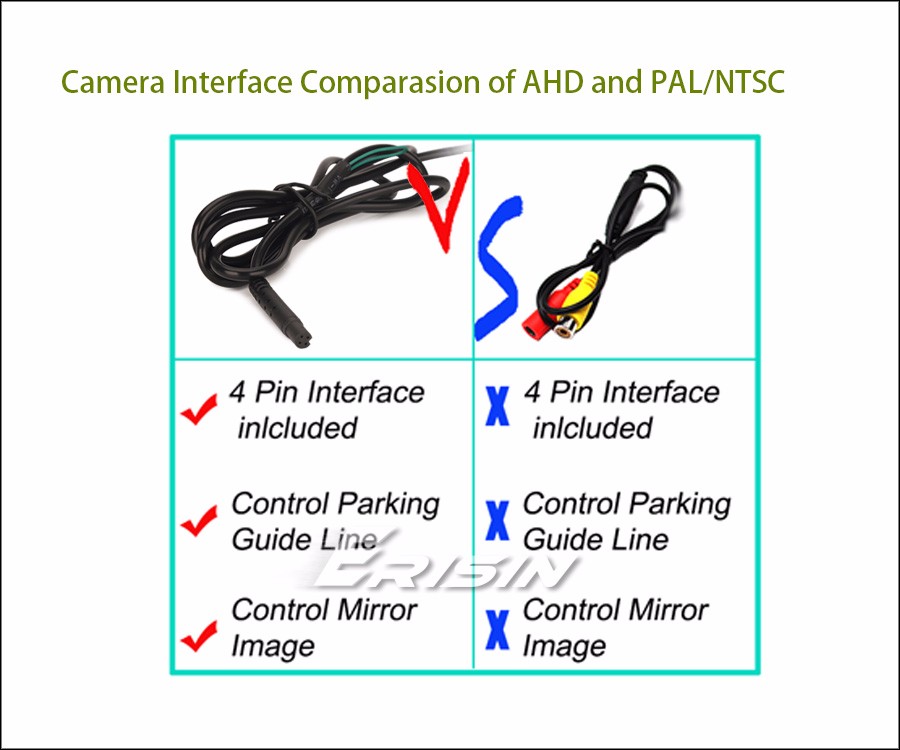 No customer reviews for the moment.