 
ES027 4PCS Auto/Car Audio Removal 1 Tool Wedge Pry Crowbar Disassembly Trim Panel Dashboard Clip Car Stereo
Key Features:

These removal pry tools can be widely used for car, motorcycle, furniture, upholstery etc., whatever the material made of plastic, leather, or wood; no matter soft or hard, with our tools, you can refit your car audio in less time, also avoid any damage caused during modification to your vehicle. They can help you to remove/install related parts easily.
An essential tool kit suitable for different vehicles.

- 100% brand new and high quality.
- Easily and safely to remove radio panel, trim, molding, door panels, and dashboards.
- Work on interior and exterior trim, wide edge remover, narrow edge remover handle remover, or upholstery clip remover.
- Reduce the concave and protruding scars left by using screw knife or other non-efficient tools.
- Each removal tool has 2 different ends: suitable for different situations, easy to disassemble mini rivets and remove panels.
- Durable: made of POM Plastic, high hardness, wear-resistant.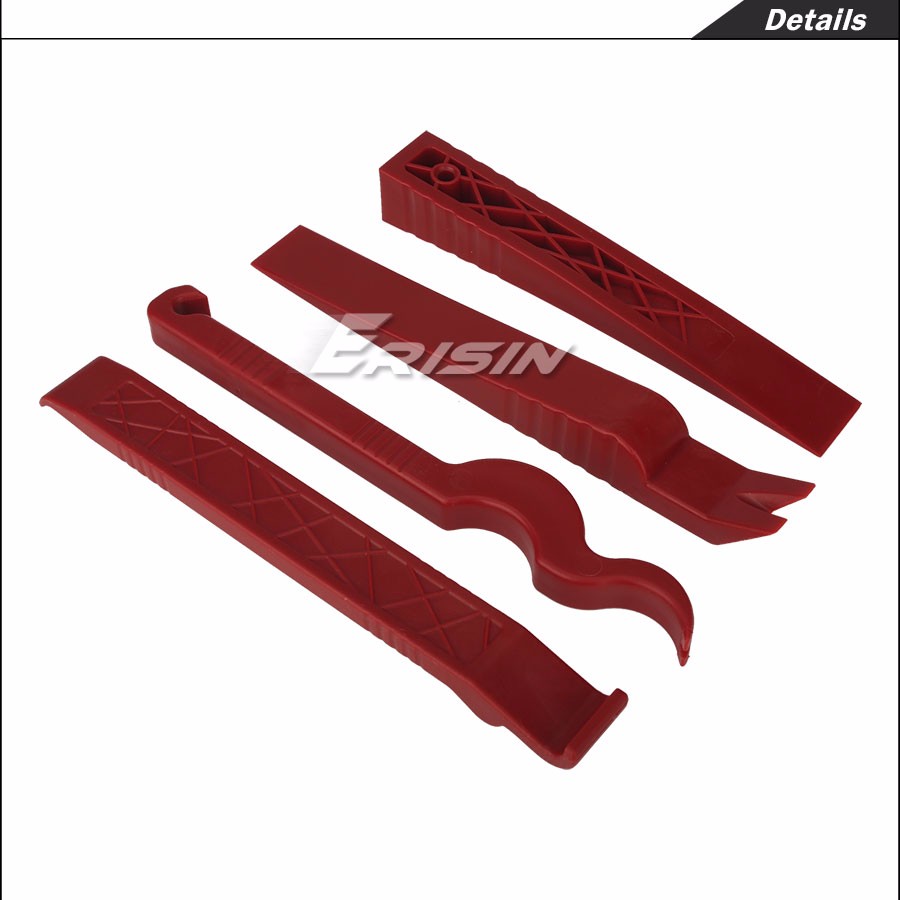 Application:

Car/Home/Construction/Aircraft/bicycle, etc. Removal car door panel, upholstery clips, remove push rivets, ect.:
1. Automotive snap on trim panel and molding removal.
2. Interior and exterior trim, wide edge remover, narrow edge remover, pull-type remover, handle remover and upholstery clip remover.
3. Furniture repair soft and hard woods, upholstery, leather work etc.

Specifications:

- Color: Red
- Material: POM Plastic
- Quantity: 4pcs Removal Tool
- 4 Removal Tool Size:
1. Approx. 225*26mm
2. Approx. 220*28mm
3. Approx. 225*21mm
4. Approx. 225x26mm
- Weight: 350g

Parcel Content:

- 4pcs * Car Audio/Dashboard Removal/ModificationTool Wedge