 
Erisin ES38C45L 10.25 IPS Android 12 Car Stereo GPS Benz C-Class W204 S204 NTG 4.5 System Carplay Auto Radio WiFi 4G
Android 12.0 OS, Octa Core, 8* A53 64-bit 1.8GHz CPU Architecture, benchmark scores exceed 110,000
Key Features:

- Adopt the newest ultra HD 10.25 Inch super wide IPS Screen with Resolution: 1280* 480 Pixels.
- Android 12.0 OS, Octa Core, 8* A53 64-bit 1.8GHz CPU Architecture, benchmark scores exceed 110,000.
- Built-in 4GB RAM and 64GB ROM, and supports 2 USBs up to 2* 256GB extended Storage.
- Can be connected with OEM Radio / CD Player to use, keep original Radio / CD player function and not destroy original cable.
- Built-in Can-bus Decoder, Compatible with most of the steering wheel control functions and original car MMI Control knob and buttons.
- Support Original Car Information Display and integrates OEM car centric functions. Remained Oil, Outdoor temp, Battery Volts, safety belts warning, Brake open etc.
- Built-in DSP System, 16-Band EQ Selections, Bass / Surround adjustable, which bring the perfect sound effect to your car.
- Built-in Dual Band WiFi for Internet, support 2.4GHz and 5GHz WiFi networking to go online faster.
- Built-in 4G Module for Internet, supports 99% of carriers on the world, supports micro SIM card, just insert your 4G SIM Card, no matter where you are driving, you will enjoy the fun from internet surfing, make it possible for online navigation / music / movie etc.
- Built-in Wireless Apple CarPlay and Wired & Wireless Android Auto module, you don't need to use another adapter, just connect your iPhone to this unit via Bluetooth to use the CarPlay function, or connect your Android phone to this unit via USB or Bluetooth to use the Android Auto function.
- Built-in the Latest Bluetooth 5.0, which supports Hands-free Calls, BT-Music, Phone Book Synchronise, Display Recent Calls.
- Built-in GPS Module, which supports offline GPS Navigation, GPS function ready to use.
- Built-in Android Multimedia Player, can play Music / Video / Photo from local Disc or USB.
- Support Reversing Camera with formats of CVBS and the newest AHD 720P-25FPS / 720P-30FPS / 1080P-25FPS / 1080P-30FPS.
- Support extended functions via USB such as DAB-Box, TPMS-Monitor, Front DVR Input & Display & Control.
- Support Split Screen, you can run two apps side by side.

Compatible Models & Years:

- Mercedes-Benz C-Class W204 / S204 2011-2014 with NTG 4.5 System and 4pin LVDS Port

Important Note:
1. To make sure the item fits your car, please check the shape of the center console or the original car radio of your vehicles which is the same as the description in our listing before purchasing.
2. This unit support ONLY NTG 4.5 system, please confirm your car's system is NTG 4.5. If you have a Mercedes-Benz C-Class W204 2008-2010 car with NTG 4.0 System and 10pin LVDS Port, you can contact us to buy the other model ES38C40. It is strongly suggested to read through the pictures following on how to distinguish between them.
3. This unit can FIT the Left-Hand-Drive car. If your car is Right-Hand-Drive, please contact us to add USD 15 to buy the other model ES38C45R.


 
ES38C45L 10.25" IPS Octa-Core Android 12.0 Car Multimedia Player Screen Upgrade GPS WiFi 4G BT CarPlay Auto...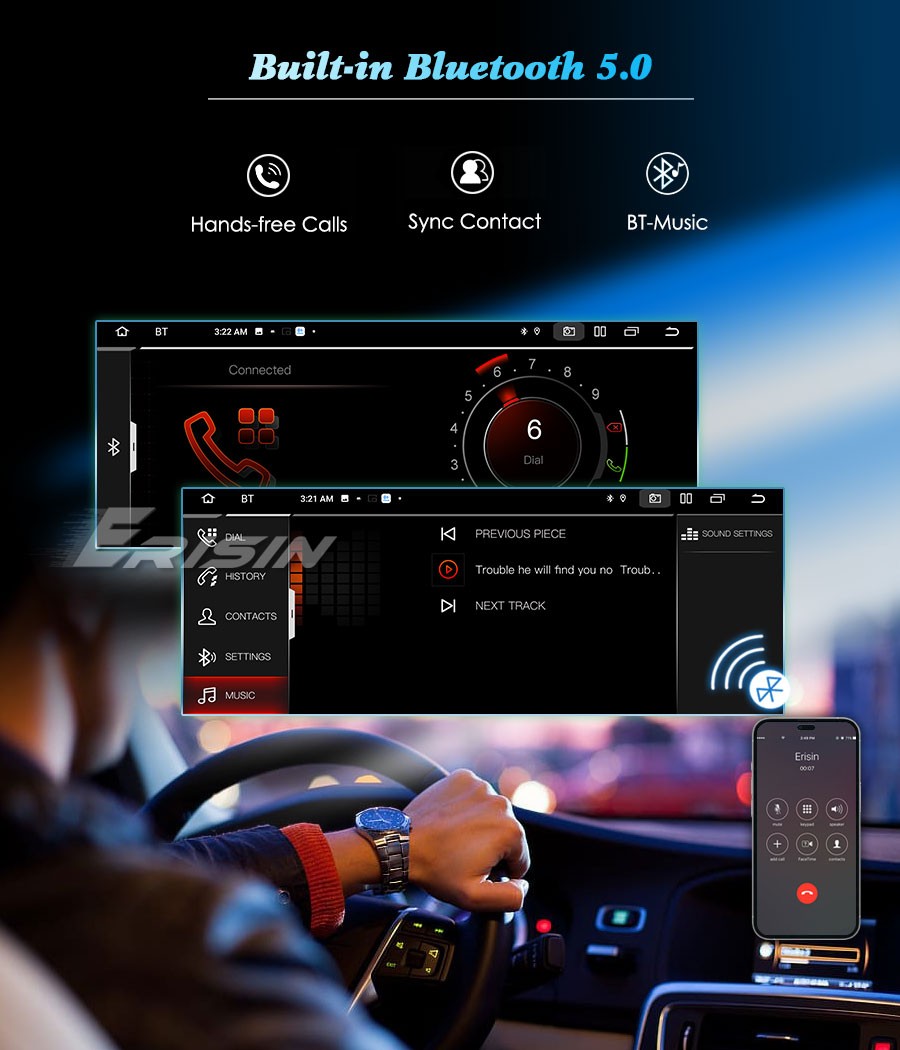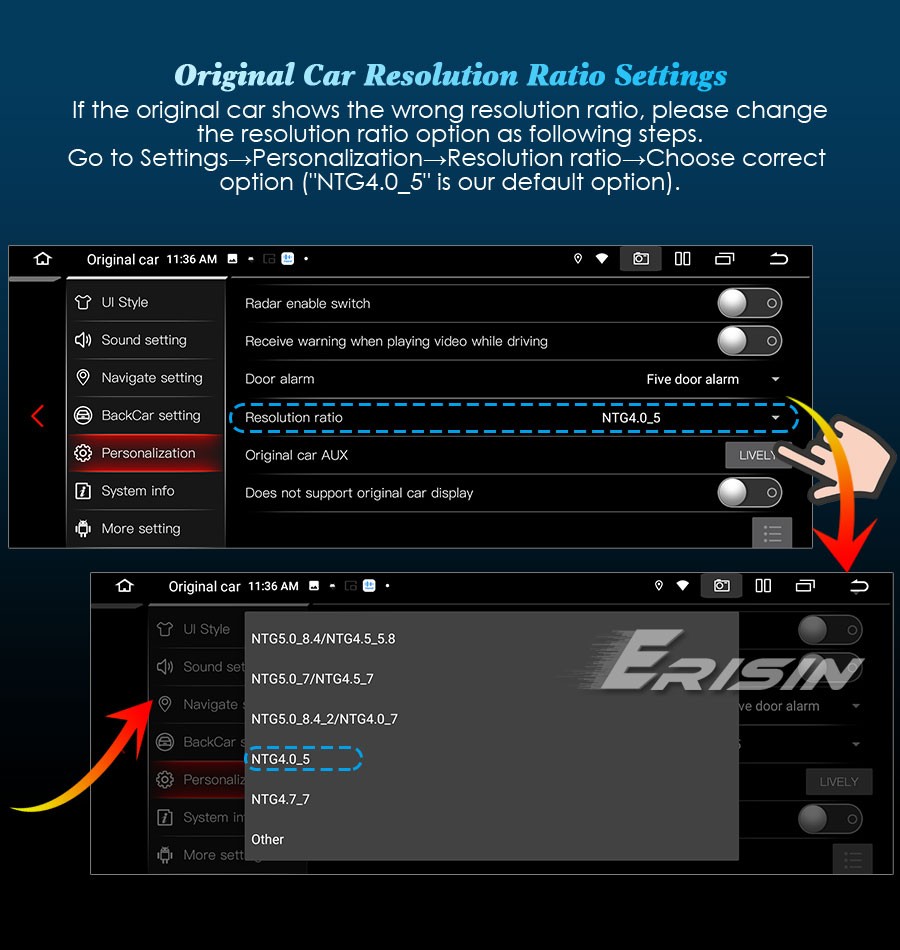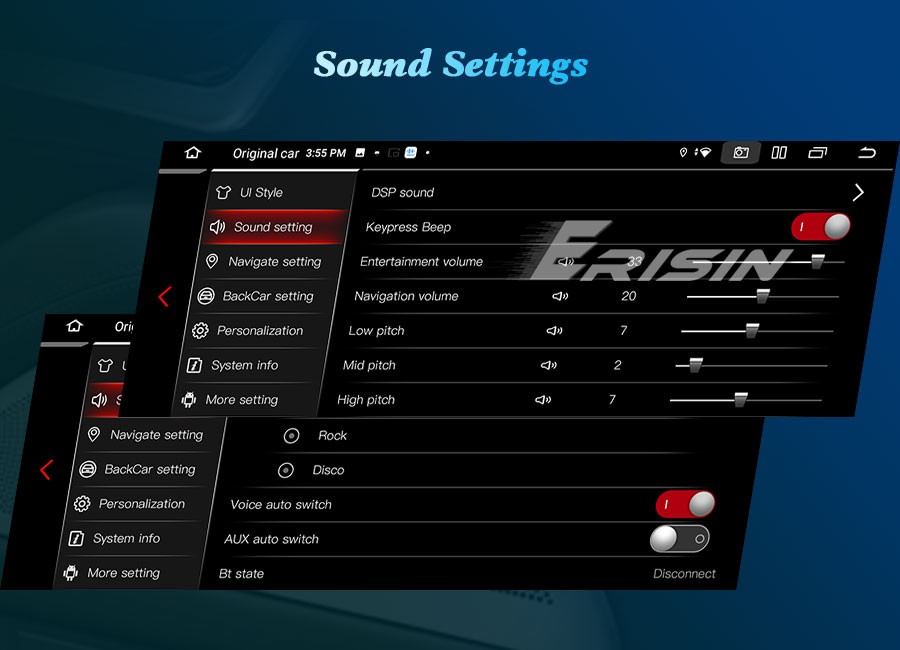 General
- Power Supply: DC 12V (allowance range: 10.8-14.5V)
- Max. Current: 10A
- Screen Size: 10.25 inch
- Package Size: 465mm*255mm*205mm
- Shipping Weight: 5kg
  System
- Operation System: Google Android 12.0
- CPU: 1.8GHz 64-bit 12nm Cortex 8* A53
- RAM: 4GB
- Internal Memory: 64GB
- Extended USB: Support external USB up to 256GB
  Display
- Screen Type: Multi-touch IPS screen
- Multi-windows view: Yes, support Split Screen, you can run two apps side by side
- Resolution: 1280*480
- Capacitive or Resistance Screen: Capacitive
- Built-in Date & Time: Yes, show real time and can use network-provided time
- Change Apps-Icon Position: Yes
- Display Original Car Information: Yes
  WiFi/4G
- WiFi Internet: Dual Band WiFi, support 2.4GHz and 5.0GHz Dual Band WiFi networking, support WiFi Hotspot.
- 4G: Built-in 4G Module, support 4G SIM card.
- Supported 4G Frequency: LTE-FDD, LTE-TDD, WCDMA, TD-SCDMA, EVDO, CDMA, GSM etc.
  4G FDD-LTE Band: B1(B4)/B2/B3/B5(B19)/B7/B8/B20(B12/B17)
  4G TDD-LTE Band: B38/B39/B40/B41
  Internet
- Explorer: Opera, UCWeb, SkyFile, Dolphin and more explorer for your selection
- Online Entertainment: Online Video, TV, Movie, Music, Radio, Video Chat
- Online Navigation: Online Google Maps Navigating
- Online Games: Yes, online play or you can download it from play store
- Online Music: Yes, use apps like Spotify, Amazon Music, Google Music, Apple Music, Deezer downloaded from PlayStore.
- Online Communication: keep connected through WhatsApp, WeChat, Twitter, Facebook, Gtalk, Gmail...
- Read and edit Office Software: Yes, support Word, Excel, Powerpoint, PDF, TXT
  Audio
- Format: MP3, WMA, MP2, OGG, AAC, MA4, FLAC, APE, WAV etc. Could play via song list
- Record: MP3, WMA
- Other: LRC synchronized display; ID3 search; Search by files; Album Picture; User-defined audio effect
- Audio IC: Top Global Cirrus IC, independent audio decoding
- SNR: Noise rations:=90dB
  Video
- Format: Support AVI (H.264, DIVX, XVID), rm, rmvb, MKV (H.264, DIVX, XVID). WMA, MOV, MP4 (H.264, MPEG,
  DIVX, XVID). DAT (VCD format). VOB (DVD format). PMP, MPEG, MPG. FLV (H.263, H.264). ASF, TS, TP, 3GP,
  MPG ect. =30 formats, Playing internet video directly (while downloading)
- Play: Up to 1920*720 Pixels, 30Mb. Fluent play without light spot
  GPS
- Operation System: Android 12.0
- Support Maps: IGO, Sygic, Waze maps for Android 12.0
- Support offline navigation: Yes, Ready to use
- Dual Zone: Yes, navigating while music playing
- Online Navi: Yes, support online navigating such as google maps
  Bluetooth
- Built-in the Latest Bluetooth 5.0
- Hands Free: Yes
- A2DP (Bluetooth Stereo Music): Yes, can play stereo music through Bluetooth
- PB-Download: Yes, can download phonebook from mobile to this unit
- PB-Search: Yes, can use the first letter to search contact member in PB-Listings
- Calling Records: Yes, Dialed Call, Received Call, Missed Call
- Built-in Microphone: Yes, on the left side of this unit
- External Microphone Jack: Yes, on the back
  OEM Radio-IN & CD-IN
- Support OEM Radio & CD Input: Yes, will display the OEM CD/Radio menu on this unit's Screen
- Keep all the OEM CD functions: Yes
- Keep all the OEM Radio functions: Yes
- Destroy the original cables: No, just plug and play
- Integrates OEM car centric functions: Yes, Remained Oil, Outdoor temp, Battery Volts, safety belts warning, Brake open etc.
  USB
- Position: 2 USB on the Back
- Function: Can be connected with U-Disc, 3G/4G Dongle, CarPlay Dongle, TPMS-Device, DVR-Camera, DAB+ Box, Smartphone etc.
- Capacity: 256GB
- Play MP5 Videos: Yes, can play RMVB Videos up to 1080P
  CarPlay
- Built-in CarPlay: Yes, just connect your smartphone to this unit with Bluetooth to use this function
- Connection: Wireless
- Support Device: iPhone iOS 7.1 and above
- Unit's Screen Control Phone: No, but you can download CarPlay supported function APK to use and control
  Android Auto
- Built-in Android Auto: Yes, just connect your smartphone to this unit with USB or Bluetooth to use this function
- Connection: Wired or Wireless
- Support Device: Android Smartphone with Android 5.0 and above
- Control the connected Android Phone on head unit: Yes
  DVR-IN
- Built-in DVR App: Yes, just connect a USB DVR Camera to use this function
- Connection Port: USB
- Storing Position: TF Card in Camera
- Touch Control DVR-Camera on unit: Yes
- DVR-Camera incl.: No, you can contact us to buy it together
  TPMS-IN
- Built-in TPMS App: Yes, just connect a TPMS Module to use this function
- Connection Port: USB
- Power Supply to TPMS Module directly: Yes
- Touch Control TPMS Module on unit: Yes
- TPMS Module incl.: No, you can contact us to buy it together
  DAB(+)-IN
- Built-in DAB Player App: Yes, just connect a DAB+ Box to use this function
- Connection Port: USB
- Power Supply to DAB+ Box directly: Yes
- Touch Control DAB+ Box on unit: Yes
- DAB+ Box incl.: No, you can contact us to buy it together
  Additional
- Textbook: Could change font, font color, background color, bookmark, reading E-book while listening music
- Photo Viewer: Support JPS, BMP, PNG, GIF etc. format. play by revolve, Powerpoint Support 4096*4096 Pixels
- APK Installer: Support Android Package installer
- Built-in Can-bus Decoder, Compatible with most of the steering wheel control functions and original car MMI knob
- Built-in DSP System, 16-Band EQ Selections, Bass/Surround adjustable, which bring the perfect sound effect to your car.
- Support Android Multimedia Player, can play Music/Video/Photo from local Disc or USB
  Accessories
- 1*User's Manual in English
- 1*Power & USB Connection Cable
- 1*Mounting screws
- 1*Mounting frame
- 1*Mini Speaker for Navi-Sound
- 1*GPS Antenna
- 1*4G/WiFi Antenna